---
Theoris is honored to be named one of IndyStar's Top Workplaces for 2023! This prestigious award is a testament to our unrelenting dedication to our team's success and well-being. We are immensely grateful for this recognition. This achievement would not have been possible without the commitment of our employees, who are the backbone of Theoris.
As we reflect on this recognition, we feel grateful and appreciative for the nominations and feedback we received from our team. Dave Lovell, President of Theoris, expressed his response to this award, saying,  "I am overwhelmed with pride and gratitude for our team, who make Theoris such an exceptional place to work. Our employees' unwavering commitment to our shared mission and values has propelled Theoris forward. I am excited to continue growing and improving as a company with such a talented and passionate team."
---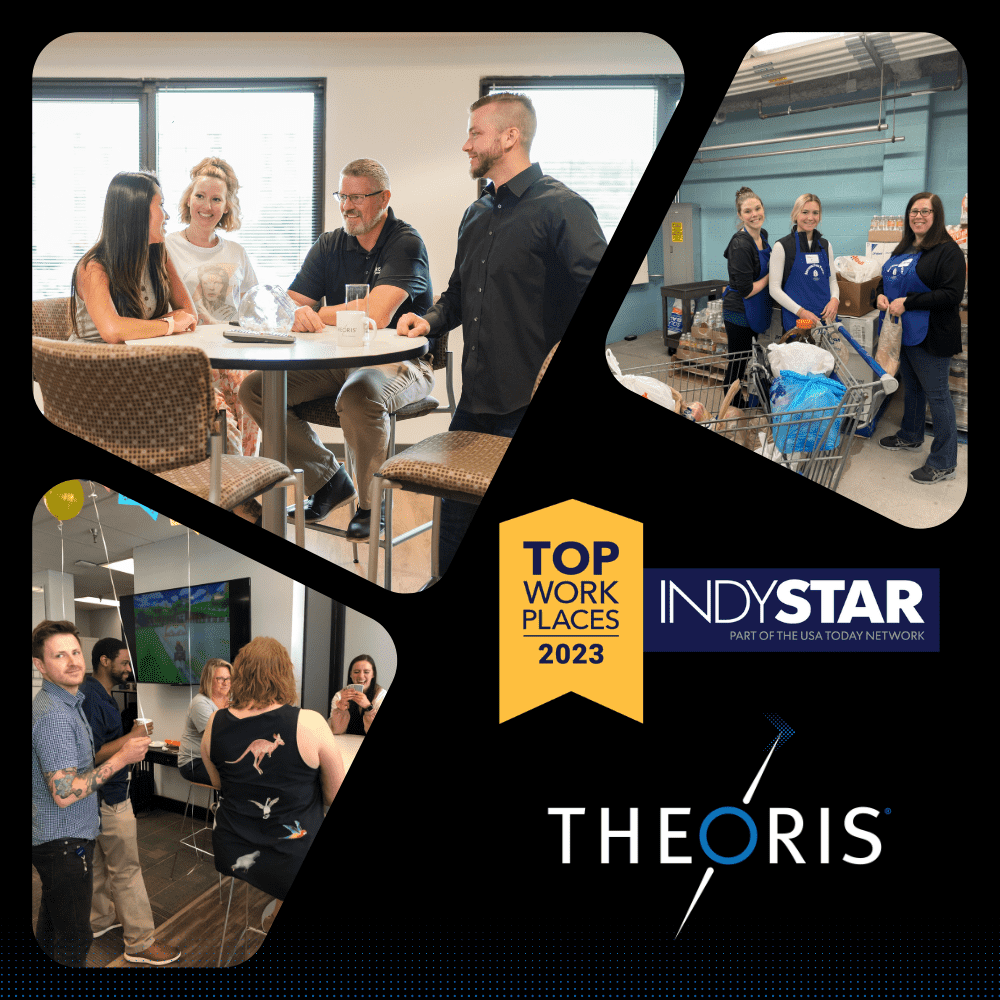 Who We Are
Theoris is an Indianapolis-based IT firm that has been making waves in the industry for over 35 years. We are a nimble and collaborative strategic data management partner. Our specialty is solving complex enterprise data analytics and integration challenges for clients in a variety of demanding industries, including life sciences, healthcare, manufacturing, and financial services.
At Theoris, we take pride in being more than just an IT company. The Theoris team consists of individuals who are innovators and problem-solvers, committed to assisting our clients in achieving success. Our expertise in strategic consulting, managed data solutions, app development and integration, cloud initiatives, and skilled IT and engineering talent acquisition has helped champion innovation for over 500 organizations.
Our clients know us for our unparalleled technical expertise, our passion for collaboration, and our commitment to delivering exceptional results. Irrespective of the project's nature, we always approach it with a collaborative mindset and an unwavering determination to exceed expectations.
---
The Theoris Impact: Eight Service Quality Objectives That Set Us Apart
At Theoris, we commit ourselves to deliver service quality objectives (SQO) of an unparalleled level, which we refer to as "Theoris IMPACT". We actively strive to leave our clients with the "eyebrow effect", signifying their genuine impression of our service quality objectives upon project completion. Our dedication to our SQOs drives us to go the extra mile for all our clients. We live by each one of our SQOs, including Competence, Reliability, Responsiveness, Concern, Confidentiality, Communication, Professionalism, and Courtesy.
---
Looking Ahead
We're excited to share this news with our clients and partners. We look forward to continuing to provide exceptional service and support. Thank you to our team, clients, and partners for making Theoris a great place to work and grow. IndyStar has recognized us as one of the Top Workplaces for 2023, and we take pride in this achievement. We'll keep striving to make Theoris an even better place to work in the years to come.