Ready for a Fresh Approach to Engineering Staffing?
Tired of wading through a mountain of unqualified, miss-matched resumes for specialty technical talent? Frustrated by the results you've gotten from typical agencies? Ready for a fresh approach to engineering staffing? 
Then the Theoris IMPACT is going to be a breath of fresh air! 
We know that finding engineers with the right experience and skill set isn't easy. We are proud to support enterprises across the U.S. with skilled technical and engineering talent. We know the right match matters, and specialize in contract, contract-to-hire and direct placements for hard-to-fill engineering positions including positions within software, process, manufacturing, design, development, instrumentation and so many more engineering disciplines. 
With over 35 years of experience working with companies to fuel growth and innovation, we can help you hire with confidence. Time and time again.
Real people. Real solutions. Real success.
As a trusted and experienced professional services firm, only candidates that have gone through extensive vetting and qualification as part of our Talent Acquisition System (TAS)™ process will be served up as possible matches. We ensure every candidate submitted not only has the proper technical skills, but more importantly is a right fit for the role in question and your organization.
All candidates are subjected to the same degree of qualification whether hired as a fully benefited full-time employee, a contract employee, or a direct placement. 
We invite you to explore our site and learn more about our skilled engineering talent sourcing, as well as our consulting and project-based solutions.
Specialized Technical Talent Talent Sourcing
Your options for hiring or consulting the best person for the job
Contract

Contract-To-Hire

Direct Placement

Executive Search
How Our Engineering Staffing Process Works
Put your mind at east. We've got this!
We believe our company is an extension of yours. A candidate's first impression of your company often comes from us. As a result, and because we genuinely care that we match talent with appropriate employers, we take the necessary time to get to know your specific needs.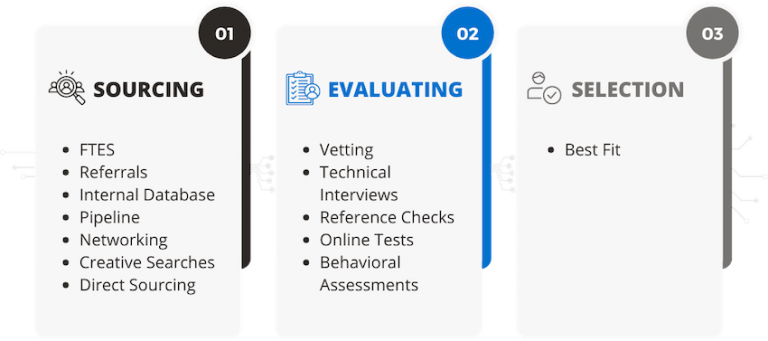 If you're looking to fill an engineering position,
getting started is simple!
1. Call Us: We'll go over your needs and develop a strategy with one of our top-tier talent staffing specialists.
2. Find Great Candidates: We'll look for acceptable matches by leveraging our relationships with pre-screened job seekers and reviewing submitted resumes.
3. Select a Candidate: We'll help you land the best candidate and then maintain a relationship with them to ensure they succeed in their new position.
Thank you to all of you! You're the most talented team I've had the pleasure to work with and will do everything I can to keep us together.

We have used Theoris to staff roughly half of our development team here in Carmel. They have always been great at exceeding the needs of our growing company. I would stack our development team up against any company in town – and the reason is Theoris!

Theoris makes the investment to fully understand my staffing requirements. They then provide what I need – well-qualified, pre-screened candidates. The result is me saving lots of time while hiring quality IT professionals. Theoris is a great partner to have.
Given the importance of making the right hiring decision, you deserve a partner who is sincerely committed to the many sectors they serve.
Discover What Makes Us Unique
Are we the right fit for you? Before we get started, find out everything you need to know!

Search Positions
Scour our open positions to find a job that matches your skills, experience, and interests quickly and easily.

Submit Resume
If you prefer, send us your resume and we will match your qualifications to open positions for you.

Hire Talent
Seeking a faster way to find great talent? Join forces with us to gain instant access to the best in your field.